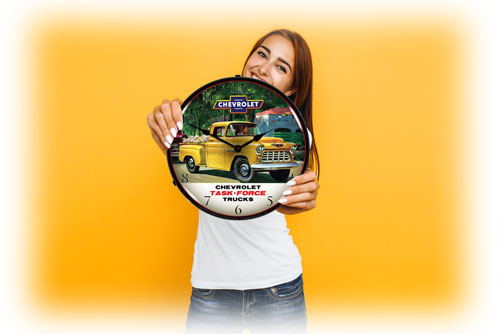 Welcome to Lighted Wall Clocks.  We offer an extensive and growing selection of retro style premium wall clocks that are back-lit using an LED light source.   They look fantastic when hung on any wall and absolutely amazing when lit!  Vintage styling and modern technology combine to make a clock that will stand the test of time.
Let me tell you about the quality of our clocks.  The lens is made from clear, optical grade lexan that will not yellow and is scratch resistant.  It is held in place with 3 removable rivets.  The face of the clock is precision cut with a CNC router and the image on the clock face is created with a computer controlled printing process and then UV dried for a consistently beautiful image on each and every clock we create.  The clock itself has a quartz movement that is powered by a single AA battery.  The LED light source is powered by standard 110 volt electricity with a convenient on and off switch on the cord.  The clock itself has a 1 year manufacturer warranty.  The LED light has a lifetime warranty! Each and every one of our clocks is made in the USA.
The quality of our clocks is matched up with a large and growing variety of designs in several different categories.  Our lighted wall clocks feature several different vintage style advertising signs that will transport you back to the 1950's.  We have hundreds of automobile inspired clocks featuring both classic and modern cars.  Our Gas and Oil Company clocks feature classic art work ranging from Flying A Service to Union 76 and many in-between.  In fact, we have over 100 Gas and Oil Company clocks for you to choose from.
In addition to our Auto Industry clocks, we offer Airplane and Aviation clocks, Cities and Places (with some excellent Route 66 designs), Military Clocks, Motorcycle Clocks, Railroad Clocks featuring several of the most iconic American Railroads, Wildlife Clocks with beautiful animal and bird nature scenes and many other great styles to choose from, including a selection of clocks that you can personalize!
It gets to be even more fun when you check out our Custom Lighted Wall clock page.  There you have the opportunity to provide us with your own photo, artwork or design and have us transform it into a one of a kind clock just for you!  The possibilities are endless.  We have had created clocks for customers featuring photos of their cars and motorcycles, family photos, business logos etc.
Please enjoy browsing our Lighted Wall Clocks site.  We are thrilled that you stopped by!