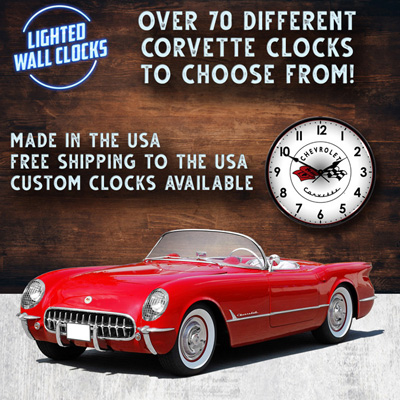 Corvette.  The single name that represents the iconic American sports car since 1953.
Now in its 8th generation, the Corvette has fans and enthusiast all over the world.  Corvette owners are passionate about their vehicles.   I know this first hand.  The Corvette was my dream car growing up and I was fortunate enough make that dream a reality.
Part of the Corvette legacy is the merchandise that supports the passion.  Here at Lighted Wall Clocks, we have over 75 different Corvette Lighted Wall Clocks to choose from.   Almost every year from 1953 to 2019 is represented.  We also have clocks honoring iconic Corvette engines, the 283 V8, 327 V8 and 427 V8.  They not only look amazing on the wall, but are a great conversation piece as well. Every clock is fully licensed by Chevrolet.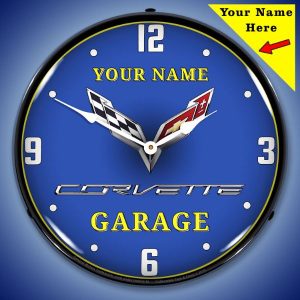 We also have a series of lighted Corvette wall clocks that you can personalize with your name.   Perfect for your man cave or garage, these Corvette clocks feature the proper Corvette type face and Corvette Flags for each generation of America's Sports Car.
As a thank you for visiting the Lighted Wall Clocks blog and reading this post to the end, please use the following code:
CORVETTEBLOG
For a 10% discount on any Corvette Wall Clock on the website.