Americana and classic old gas stations seem to go hand and hand.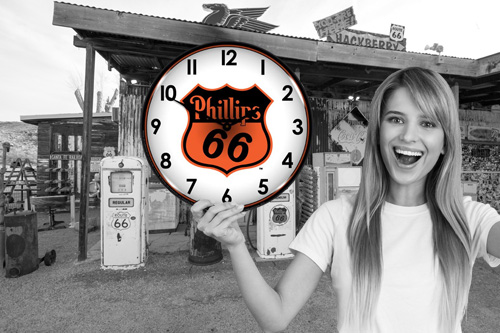 Driving up and down some of America's most iconic highways transport us to a simpler time when the Sunday drive was an American past time.  Folks heading west stopped at a Phillips 66 gas station for a full-service fill-up while motoring down America's Highway, the Mother Road Route 66.
The ageless look of the classic American gas station is completed by their vintage signs and logos that many of us grew up with.
Here at Lighted Wall Clocks, we offer a  selection of vintage style wall clocks that uniquely capture this fabulous time in our history and take us back, if only for a moment, each time we glance at the clock on the wall.
Flying A, Clark, Dixie, DX, Esso, Gilmore, Gulf, Hudson, Kendall, Marathon, Mobile, Polly Gas, Pure, Signal, Sinclair, Sunoco and more.   All are represented with retro style wall clocks featuring the timeless style and artwork that lives to this day with the uncanny ability of transporting us back in time.
Take a trip down memory lane with our vintage gas station lighted wall clocks.  Guaranteed to make you smile and remind us of simpler times.